Proper Roof Replacements in Denver & Louisville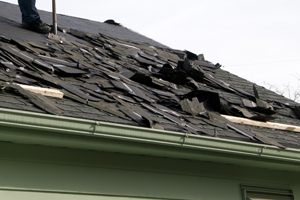 Added Value & Structural Integrity. Replacing your roof is a beneficial alternative to spending thousands on endless repairs and it will add value to your home.
Let us replace your Colorado roof with an efficient, longer lasting material
Replacing your roof is probably one of the biggest investments to consider. An expense this large can become daunting when it comes time to search for the best price and the right contractor. That is why when you choose to work with High Impact Roofing & Exteriors we combine both affordability and the best quality for every job.
Our honesty and integrity lie within our work, and we truly believe by advising customers to follow through with the proper upkeep of their roof will help them avoid costly repairs and even unnecessary roof replacements. We can accurately determine the strength, stability and overall condition of your roof and be able to advise you on whether or not you need a full replacement.
We specialize in roof replacements all throughout Colorado, including Arvada, Parker, Louisville, and the surrounding areas. Call us today for a free estimate in your area. We look forward to hearing from you!
Customer Reviews
By Peter T.
Centennial, CO

"It was great to have another expert opinion when dealing with my insurance..."

By Debbie V.
Englewood, CO

"Our house looks great! Thank you!"

By Catherine C.
Englewood, CO

"Your know how to please your customer with attention and quality of..."

"Got all the work done-replaced roof,gutters and painted house in a timely..."

"Our Project Manager, Dave Newell, was always cheerful, professional, and..."

"I was impressed with the way my re-roofing job was handled and have..."
Replacing your roof is more cost-efficient than extensive repairs
If you have a roof leak and wood rot or either of the two, sometimes the damage is severe and become far too expensive to fix. Any damage done to your roof, whether it is from a storm, heavy winds, or just everyday strain, can rack up hefty costs, which is why total replacement is often times ideal.
Roof replacement is also more economical than re-roofing because you won't have to risk suffering from the old problems you used to have. By installing brand new materials, you are eliminating problem areas altogether and starting fresh, which means your roof can last throughout the duration of your stay in your home and even increase the value if you decide to sell it.
The many signs you may need a roof replacement:
Your shingles are broken, torn apart, coming off, buckling, cracked, or missing altogether
Your roof is beginning to leak into your home, creating warped spots in your ceiling
The shingles on your roof are discolored, missing, or just look worn down
The flashing on your roof is damaged
There are evident signs of wood rot and mold growing, allowing your roof to succumb to deterioration
Your roof is 25 years old or older
Before and After
Before

After

A two story makeover turned this pleasant home into something really eyecatching. The new GAF Timberline HD roof in Mission Brown looks even better next to a stunning new paint job. Talk about curb appeal!

Before

After

This roof owner chose a beautiful look with CertainTeed Presidential Shaker shingles in Aged Bark to replace their hail damaged roof and gutters.

Before

After

This homeowner had several damaged portions to their roof and changes to her covenant guidelines. High Impact Construction's excellent service helped her find a product that managed to meet the new guidelines while staying in budget. Now the home is safe from the elements once again.

Before

After

This home's battered wood roof needed a complete replacement. High Impact was able to help this homeowner assess the damage, negotiate with the insurance company, and replace the damaged materials with a beautiful new roof that fit the look while giving added protection to the home.

Before

After

This elegant home was a challenge with its huge curving roof line, skylights, and two roof mounted evaporative coolers. The roof itself swept forward on either side around the front entrance creating some oddly angled valleys which we were able to aesthetically blend. The client chose hand split heavy wood shakes from Cedar Shake & Shingle Bureau for a custom look that won an award for Job of the Year with the Colorado Roofing Association.

Before

After

Hail damage had scarred up the roofline on this Tudor style two story, and the customer contacted our team for an in depth inspection. We identified all the problem areas and outlined a plan for full replacement.

High Impact was able to restore the look with CertainTeed Presidential Shake in Charcoal Black. The customer loves the snazzy new look!

Before

After

This classic Victorian home was showing it's age. High Impact made the most of this challenging roofline with it's lovely turret and steep pitch to showcase the home with new shingles and gutters, and restored her stylish grandure.

Before

After

This classic Denver property had shingles falling off and damage to the eaves. High Impact handled the low slopes and curves with ease, and the Owens Corning Duration Storm roof now provides beautiful Impact Resistant coverage, complete with Weatherguard® Technology. Long lasting protection looks lovely on this charming cottage.

Before

After

This pretty one-story home nestled among the trees of it's picturesque neighborhood had three layers of old roofing that needed to be removed and replaced. High Impact spruced the place up nicely with a GAF Timberline HD roof in Barkwood.

Before

After

The classic lines of this Denver bungalow were marred by missing fascia, rotted woodwork around doors and windows, and dark patches from age between the sagging lines of the old-fashioned slat-frame roof. High Impact was able to restore her shape and put a new solid roof back on this lovely Denver gem.
Choosing a roofing company you can always count on
You don't just want a contractor that has all the right certifications and licensing. While those licenses and certifications are important and crucial to the company's existence in the first place, reliability, credibility and the relationship you build with a company is far more important than anything. Here at High Impact Roofing & Exteriors, we pride ourselves on providing unmatched customer service and quality, reliable solutions. We want to work WITH you to achieve the best results you want, with a price you can afford and be satisfied with.
If you live in Denver, Aurora, Littleton, Thornton, Morrison, Monument, Lone Tree, or any other area in Greater Front Range, call us today to schedule a free on-site inspection and detailed estimate.